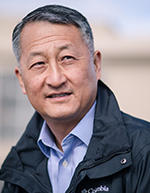 Mr.Young Kim,
Founder and CEO of Digital Harvest, Inc.
Young believes agriculture should be as precise and data-driven as the aerospace industry.

As such, he applies his 20+ years of experience as an entrepreneur and technologist in aerospace, semiconductors, neural network control methods, and robotics to set business strategy, capture key customer relationships, establish strategic partnerships and guides the development of key products and services for Digital Harvest.

Under Young's leadership, Digital Harvest seeks to solve the customers' most impactful problems by leveraging the compounding benefits of using data-science machine learning techniques with geospatial information and customers' ground-truth data.

Young served as an officer in the U.S. Air Force. As an instructor and mission crew member, he logged over 2,000 flight hours in the E-3 Sentry AWACS (Airborne Warning and Control System) aircraft. Young holds a B.S. in Applied Physics (Nuclear) from the Georgia Institute of Technology, and an MBA. He has four children, and he and his wife reside in Camas Washington.